Our Station Stay
Discover our slice of paradise.
ACCOMMODATION
Our rustic style accommodation is designed to complement the surroundings of our nature based park
and we have various options to suit your needs.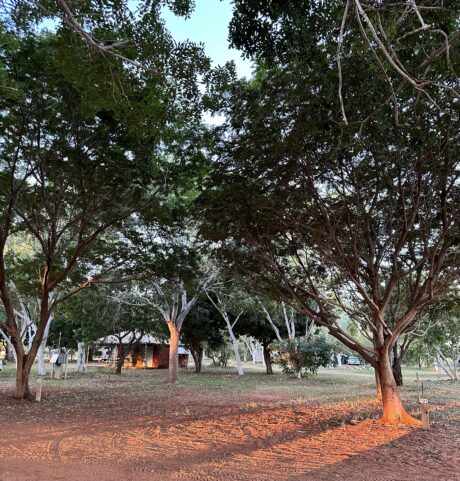 Powered sites
In shaded grounds 80 metres from the beach, with capacity to fit large vans and trailered boats. Power is 24 hour and restricted with 6 amp or 10 amp sites available.
Unpowered sites
With breathtaking views of the ocean, our unpowered sites accommodate the more self-sufficient traveller. Fresh potable water is provided and they are within walking distance from the shop and ablution block.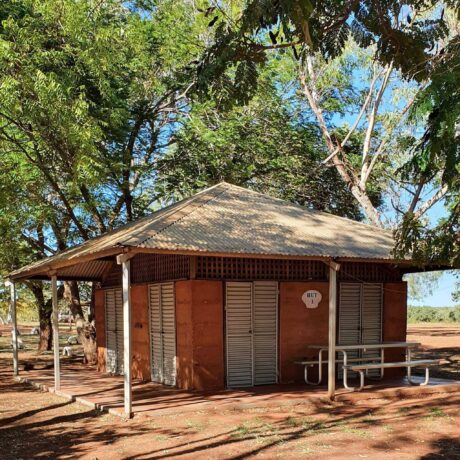 Huts
We have three basic single room mud camping huts to base your camp from which can sleep 4 - 5 people. They have 240V power, a sink and beds with mattresses, you just need to supply the rest! The huts are nestled within the shade and extra guests are welcome to camp around them. The huts do not have air conditioning, but have ceiling fans and are designed to encourage ample sea breeze ventilation.
Camping Shelters
If you're looking for a base to camp out of these shade cloth shelters are the perfect solution! They have a large shaded area to set up camp underneath, as well as views of the ocean and your own beach shower and tap.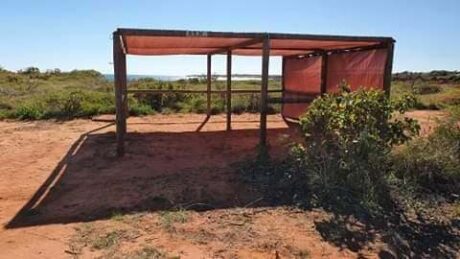 Facilities
Our rustic retreat offers all the essentials.
Kiosk and cafe
Barn Hill is well known for it's huge range of delicious homemade food! Every morning our bakery turns out freshly hand made bread and cakes, and of course don't forget to try our famous vanilla slice! We also have lunch options with healthy salads or homemade pies and toasties, and every night you have the option of a homemade meal or authentic Italian pizza.
Our kiosk is surrounded by shaded seating and lawn, with a view over the stunning Kimberley coastline. There is also good network coverage should you need to catch up on emails while having coffee and cake.
Ablution blocks
The park is well serviced by ablution blocks with fresh water and hot showers. In keeping with our nature based philosophy, we even have roofless showers so you can be showered under the stars.
Laundry
For your convenience we have several coin operated washing machines around the park. Please use the clotheslines provided.
Mail Service
Barn Hill has a post office box for guests which is collected several times weekly, if you wish to get you mail redirected or send something to a guest the address is: Box 7482 Broome 6725. Please refrain from having large items delivered to the box.
Mobile reception
There is no public phone or internet at Barn Hill, however you will receive good mobile reception coverage if you are with a major carrier.
Beach access and fish cleaning
Barn Hill has excellent beach fishing, however for those of you with boats these can easily be launched from the beach. Access to the beach by vehicle is only allowed for launching boats. Fish cleaning facilities are provided but you are responsible for your own carcass disposal. Barn Hill supports sustainable fishing for the future.
Electricity
We generate all our own electricity at Barn Hill, thus to ensure power supply to all our guests, and to minimise the environmental impact we have on our beautiful landscape, we encourage guests to be mindful of their electricity usage and refrain form using high drawing appliances when electricity demands are high. We have 6 amp sites, or 10 amp sites if you require greater power supply.
Rubbish
We provide a rubbish disposal for all household items (vehicle parts and oil excluded).
Gas
Quick swap gas cylinders are available.
Pets
All types of well behaved pets are welcome at Barn Hill, they must be on a lead at all times in the park and cleaned up after. Any dogs causing disturbances to other guests will be asked to leave, as in accordance with the Caravan and Camping Grounds Act 1997.