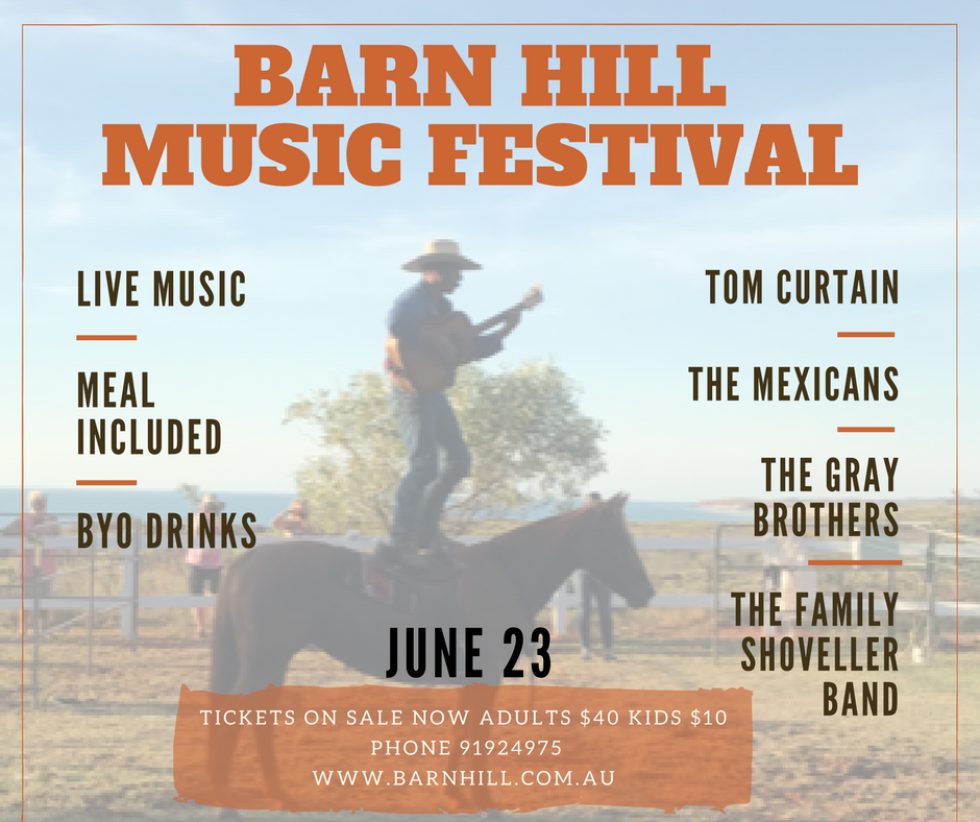 THE BARN HILL MUSIC FESTIVAL RETURNS!

Following the success of our 2017 event, the Barn Hill Music Festival returns on the 23rd June 2018 bigger and better than ever.

Returning is Golden guitar winner Tom Curtain with a live horse and dog show, as well as performances from his recently released album Territory Time.

Joining us for the first time is Broome's original party band The Mexicans! Bound to have you dancing until the small hours.

The Gray Brothers also return this year as a trio, hot off their tour of the South West!

And to round them out our local favourites The Family Shoveller Band!

As well as our major acts we will also have a number of new emerging local artists!

Tickets: $40 adults $10 Children (includes a meal)

BYO drinks

Purchase by email: bookings@barnhill.com.au or phone: 91924975

No door sales so tickets must be pre bought and collected on arrival!

Our Relaxed Haven
Many a tourist has stopped at Barn Hill to stay 2 nights only to extend for 2 weeks, drawn by the magnetic coastline and the people they meet in our relaxed haven.
After a full day of activities or even just relaxing, we also have several weekly social events to keep you busy.
A lawn bowling green with regular tournaments, Wednesday night communal BBQ's, and a roast night on Sundays with local entertainment.

Beach Activities
There are a variety of beach activities to be enjoyed by all ages:
excellent beach and dinghy fishing
snorkelling
swimming
cave exploring
cliff walking
bushwalking
and climbing our namesake landmark Barn Hill
Photo Gallery